It is with great pleasure and pride that Groot Constantia mark the occasion of their birth – 334 years ago!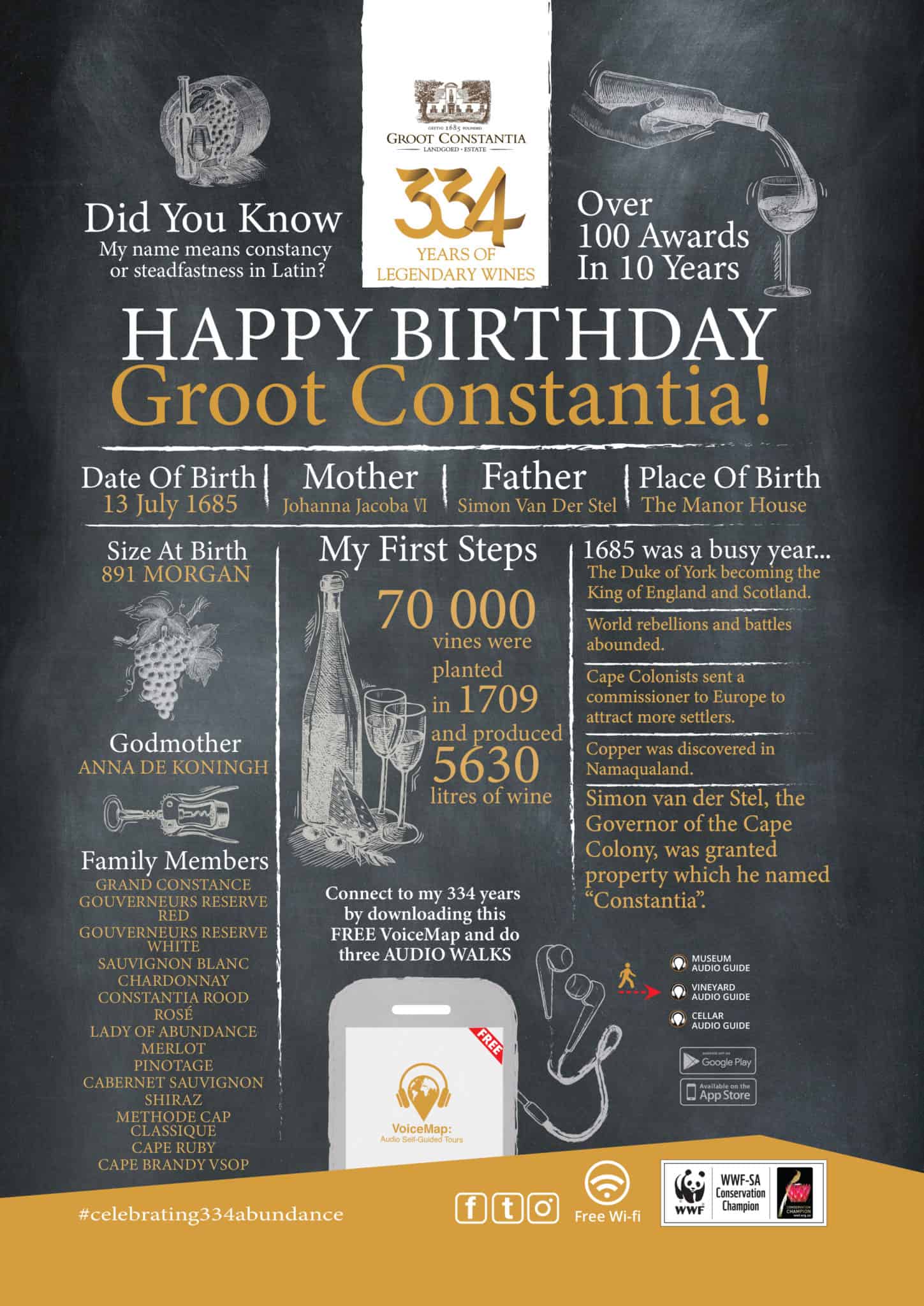 Born on 13 July 1685, weighing in at 891 Morgan to father Simon van der Stel, the Estate was christened "Constantia", meaning constancy or steadfastness in Latin – and the name has rung true for 334 years as Groot Constantia has stood the test of time! In the past 10 years alone the Estate's wines have won over 100 awards.
Wines in the Groot Constantia family include the iconic Grand Constance, the flagship Gouverneurs Reserve Red and White, Sauvignon Blanc, Chardonnay, Constantia Rood, Rose', Merlot, Pinotage, Cabernet Sauvignon, Shiraz, Method Cap Classique, Cape Ruby, Cape Brandy and the newest member of the family – the Lady of Abundance.
1685, the year of Groot Constantia's birth, was a busy year – the Duke of York becoming the King of England and Scotland, rebellions and battles abounded, the Cape Colonists sent a commissioner to Europe to attract more settlers, Copper was discovered in Namaqualand and Simon van der Stel, the Governor of the Cape Colony, was granted the property which he named "Constantia". Over centuries the property was subdivided which gave rise to the name "Groot Constantia", the property with the original but altered homestead of Simon van der Stel.
And so the oldest wine-producing farm in South Africa was born! 
Groot Constantia is inviting the public to connect with their 334th birthday celebration by downloading the FREE Voicemap App and then visit the estate to experience the three very special and unique audio tours – the Museum Tour, Vineyard Tour and Cellar Tour. The Estate offers free WiFi, so download when you arrive to #celebrate334abundance
For more information visit www.grootconstantia.co.za or connect with Groot Constantia via social media on Twitter, Facebook and Instagram @GrootConstantia.