From vineyard to world arena – A grand wine with a grand heritage
Groot Constantia produces a premium sweet wine called Grand Constance which has a big, bold personality fitting for a wine that dates back to the Napoleonic era. In fact the rich flavours of this flagship wine are as interesting and complex as the story behind its existence.
Hundreds of years ago, Grand Constance, the French translation for Groot Constantia, received international acclaim for its superior quality and began to fetch extremely high prices at well-attended auctions in many European cities – with emperors and kings, such as Frederick the Great of Prussia, Napoleon and King Louis Philippe of France, all vying for their share.
Napoleon drank Grand Constance while on exile on St Helena – with 30 bottles being shipped every month to the island. Charles Dickens celebrated it in Edwin Drood, Jane Austen's character recommended it as a cure for a broken heart to heroine Marianne Dashwood in Sense and Sensibility and Charles Baudelaire compared Constantia wine to his lover's lips in his most famous volume of poems, Les Fleurs du Mal.
Constantia bottles, bottle shards and bottle seals dating from as far back as 1774 have been found in far corners of the globe in some unusual circumstances: One bottle was found at the bottom of the ocean in the archipelago outside Stockholm in the late 1940's by a diver; three bottles were discovered in the cellar of a castle near Belgium that date to the period 1760 – 1840; a bottle piece featuring the Constantia bottle seal was discovered on a beach in the Delaware Bay and identified by historians to be part of the cargo of the Severn – a ship that was stranded there in 1774; another find was a very crude example of the Constantia wine seal – evidently far older than all the other examples – which was unearthed in an excavation in Meiningen in Germany.
Grand Constance was produced in the famed Cloete Cellar, which is the original wine production cellar built in 1791. Over the years the production of this sweet wine was halted until several years ago, under the guidance of awarded wine maker Boela Gerber, Groot Constantia took the decision to recreate the renowned Grand Constance wine – far from an easy task and one which entailed much experimentation, sampling and laboratory grade testing.
Finally, armed with a formula that would recreate a wine like that of the original Grand Constance, and adjusted to appeal to more modern tastes, Boela took a leap of faith and using a blend of red and white Muscat de Frontignan grapes from the block right next to the Groot Constantia Manor house they resurrected this grand old wine.
Once the contents were on track, it came time to create the bottle in which it would be presented and a five year journey to recreate a suitable bottle for the revitalised Grand Constance wine ensued. After scouring the internet, Gerber discovered an intact bottle Of Grand Constance in Paris. From this one photograph, an engineering firm redesigned the Grand Constance bottle and the bottle was produced by a glass manufacturer in South Africa.
The "new" Grand Constance was launched in 2010 and generated a furore of local and international interest. Boela received emails from across the globe regarding wine bottles with similar 'Groot Constantia Wyn' seals.
In 2016 an extremely rare Grand Constance bottle from the 1821 vintage returned home to Groot Constantia and can be viewed in the Cloete Cellar where it was produced by owners and workers nearly two centuries ago. The Cloete Cellar is the only place where the famous Grand Constance wine was ever produced, and now half of the cellar features a museum, whilst the other half is a tasting room.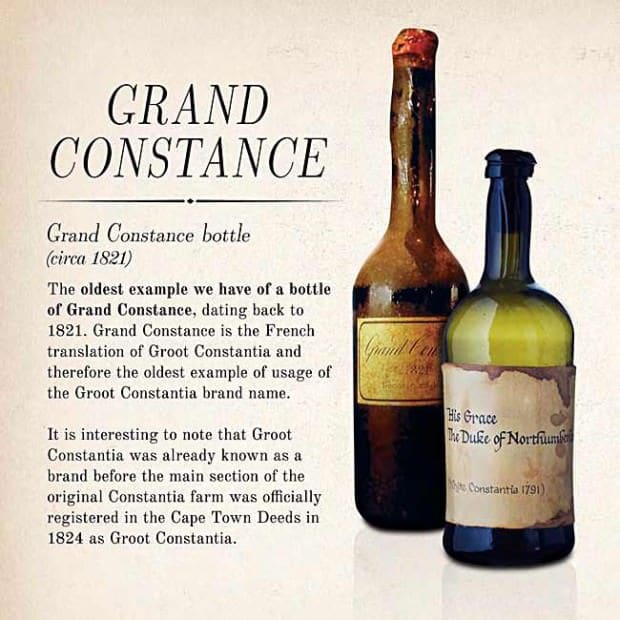 The re-invented Grand Constance has not let its ancestor down and continues to rake in the awards. Most recently this signature wine was awarded Platinum in the 2019 South African Wine Index's (SAWi) annual Grand Wines Collection awards. In 2018 alone the awards brought home included Gold at the Monde Selection International Wine Show; Double Platinum and Grand Cru National Champion Best in Class at the Top 100 Wine Competition; Gold at the Muscat Du Monde awards; Gold at the Novare SA Terroir Wine Awards and Gold Outstanding at the International Wine and Spirits Competition.
It is not often that one gets the opportunity to savour a wine that is not only delicious but which is also possibly one of the most celebrated wines in history, and which has a story behind it that cannot be boasted by any others. Now you can through a visit to Groot Constantia.
This is the only wine farm that is a member of the Big Six tourist destinations in Cape Town (the other members include Table Mountain, the V&A Waterfront, Robben Island, Kirstenbosch and Cape Point) and it is easy to see why when you visit and spend time at this special Provincial Heritage Site.
For more information visit www.grootconstantia.co.za or connect with Groot Constantia via social media on Twitter, Facebook and Instagram @GrootConstantia.
About Groot Constantia
Groot Constantia is South Africa's oldest wine-producing farm – in existence for 334 years this year. Wine has been produced on the estate without interruption since 1685 when Commander Simon van der Stel of the Dutch East India Company (VOC) was originally granted the land on which Groot Constantia stands.
It has changed hands many times over the centuries and now Groot Constantia is a Provincial Heritage Site and a living museum with the task of preserving the history and cultural legacy of the South African wine industry for the people of South Africa. The current owners of the estate, the Groot Constantia Trust, a non-profit company, has ensured that Groot Constantia is beautifully maintained and operated to the highest standards – delivering a top-quality experience to visitors.
Groot Constantia's wines have collectively won well over 100 top awards in the past 10 years alone.
This is the only wine farm that is a member of the Big Six tourist destinations in Cape Town. The other members include Table Mountain, the V&A Waterfront, Robben Island, Kirstenbosch and Cape Point.

From our cellars Frederick the Great of Prussia, Louis Phillipe (King of the French) and Napoleon were supplied...
come and add yourself to the list!
Become part of a lineage of royalty and noble men who have savoured our wines for centuries.
By joining our exclusive Groot Constantia Wine Club you will enjoy the following exclusive benefits:
No initial sign up cost

Wine Club Members receive a standard 10% discount on Groot Constantia wines bought at the Groot Constantia Wine Estate and on our website www.grootconstantia.co.za

Be among the first to be informed of specials and new releases

Have the exclusive opportunity to pre-order new vintages