Groot Constantia are fully cognisant of the risks associated with human – baboon interactions on the Cape Peninsula.
We do not use lethal force to control baboons but have taken costly measures to deter them from visiting the farm. We have spent over R1 million on a special baboon fence designed to keep the majority of the baboons out. In addition to this, we employ the services of baboon management specialists who have strategies in place to assist us to prevent human-baboon conflict.
The baboon monitors have substantial experience in the mitigation and management of baboons in the Constantia Valley. When a troop enters the estate, the baboon monitors are trained to use specific techniques such as aggressive gestures and loud noises to chase the rogue baboon or troop of baboons back to the conservation nature reserve of the Cape Peninsula. Should none of the above work, tools are then used to deter baboons, such as paint ball markers, bear bangers – which are blank cartridges fired into the air – and pepper balls containing an irritant pepper powder (these are only used in extreme circumstances).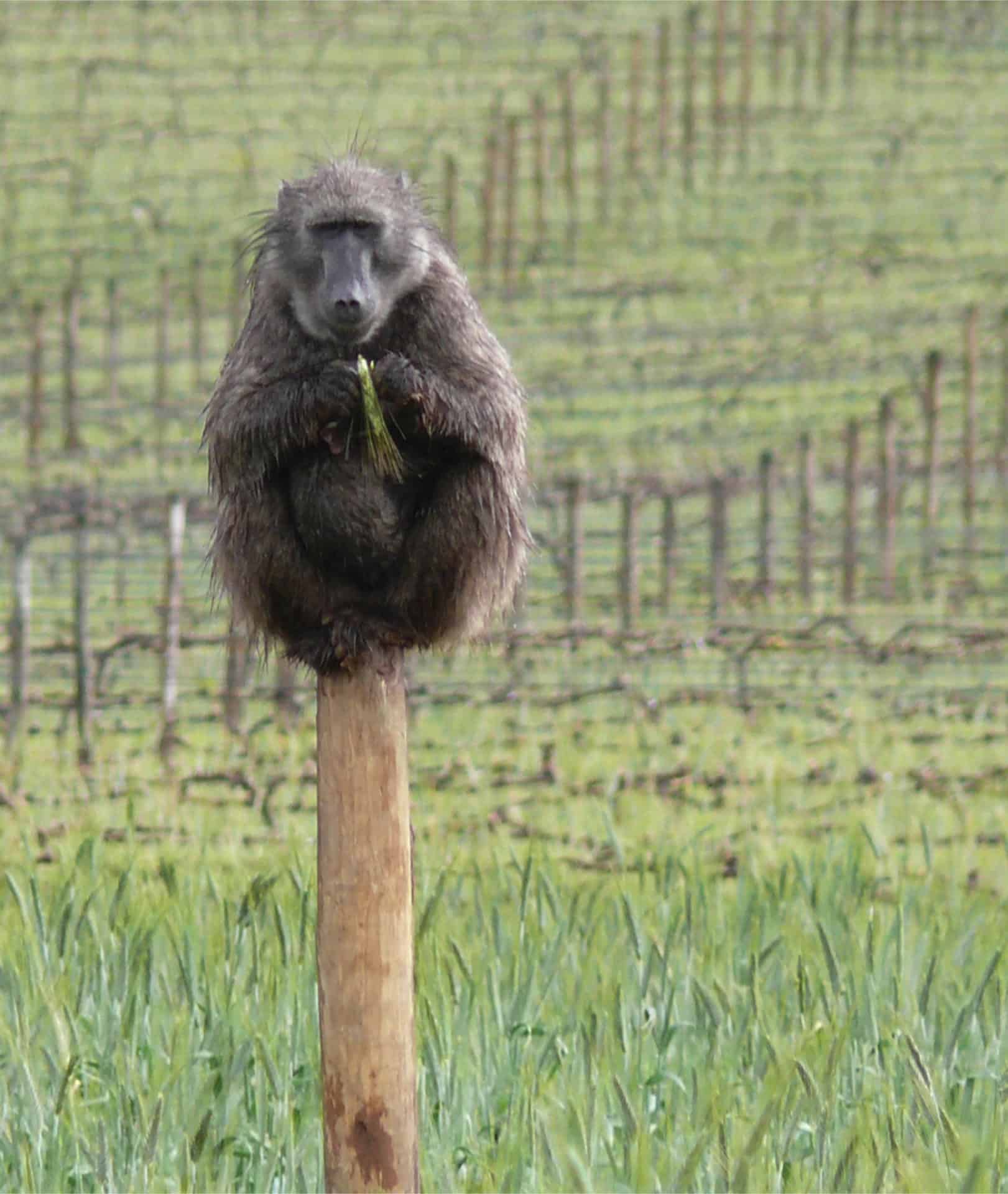 Despite these efforts, as has been demonstrated, sometimes one of these clever creatures may still slip through – especially (it would seem) with the allure of an easy meal. Thankfully occurrences are very rare. Since this incident additional training will be given to Estate and restaurant staff from the baboon monitors on how to manage the situation – which entails attempting to scare the baboon away without creating any undue aggression from the animal – until the monitors arrive to assist. In addition to this we equip staff with the Baboon Hotline number.
Groot Constantia work with the City of Cape Town to handle any baboon interactions and methods to handle human – baboon conflict are prescribed by the Baboon Conservation Authorities, who have instituted a protocol to manage raiding baboons. The safety of visitors from around the world is of paramount importance to us at Groot Constantia. We are working with all the relevant authorities and experts on an ongoing basis to ensure safe and healthy environments for both visitors and the baboons.
There was much coverage in the press and on social media recently regarding the baboon who visited Groot Constantia for a quick meal at Jonkershuis.
We have now read with concern the reports that this baboon has been shot. We wish to speedily rectify this false fact.
Groot Constantia do not use lethal measure to control baboons and work closely with the relevant City of Cape Town authorities to ensure we manage baboon/human interactions in such a manner that the baboons are not harmed.
There are conservation measures in place to protect baboons and protocols set out by the City that must be followed to minimise conflict with these clever animals, and we follow all of these measures at Groot Constantia.
It is essential to honour the natural habitats and environment in which we operate!
Yours Sincerely
Groot Constantia Management