Groot Constantia vier 335ste verjaarsdag met voortreflike span-sege
Daar kan nie 'n meer gepaste tyd wees om die deurstettingsvermoë en geesdrif van Groot Constantia te vier, as in 2020 nie.
Terwyl dié ikoniese wynplaas 335 jaar van ononderbroke wynproduksie vier, is die Groot Constantia-span trots om met 'n merkwaardige 20 toekennings by die tiende herdenking van die Top 100 SA Wine Awards weg te stap.
Nege wyne in Top 100 van Suid-Afrika
Groot Constantia het vanjaar vyf Grand Cru Best in Class-toekennings verower, sowel as nege Top 100 Double Platinum-toekennings.
Hansie Warries, Keldervoorman by Groot Constantia wat al vir meer as 28 jaar op die plaas in verskillende rolle werksaam is, is baie opgewonde oor die nuus: "Goeie dinge gebeur as ons saam werk tot die beste van ons vermoëns. Híér doen ons dinge as 'n span en ons doen ons werk met liefde. As jy nie lief is vir jou werk nie, gaan jy nie alles kan gee nie." 
Die Groot Constantia-wyne wat koning gekraai het met beide Grand Cru en Double Platinum-toekennings, sluit in: Groot Constantia se Gouverneurs Reserve Red 2017, Groot Constantia Rood 2017, Gouverneurs Reserve White 2017, Groot Constantia Rosé 2019 en die Grand Constance 2016. Die vier addisionele wyne wat ook by die Double Platinum-lys ingesluit is, is die Chardonnay 2018, Cabernet Sauvignon 2017, Merlot 2017 and Lady of Abundance 2017.
"Behoorlike beplanning, positiewe samewerking en deursettingsvermoë is baie belangrik. Dit help ook om in so 'n spesiale omgewing te werk wat dien as ons daaglikse inspirasie om op te staan en te boer," sê Cobus Wilson, Instandhoudingskoördineerder wat hand-aan-hand saam met die Plaasbestuurder en Wynboukundige, Floricius Beukes werk.
"Hierdie moet sekerlik ons mees merkwaardige wyntoekenning oor die laaste dekade wees. Om nege van ons wyne as deel van Suid-Afrika se top 100 te hê is 'n inspirerende prestasie wat ons vertroue versterk ten spyte van moeilike omstandighede," sê Beukes.
Grand Constance se Ster Skyn Steeds Helder
Die Top 100 Wine Consistency-toekenning is weer eens toegeken aan Groot Constantia se Grand Constance 2016. Dié wyn het 'n prestasie-reputasie met oorwinnings in dieselfde kategorie in 2015 tot 2019, asook die erkening as Grand Cru Best in Class vir twee agtereenvolgende jare.
Elizabeth George, 'n werknemer van Groot Constantia vir die laaste 22 jaar en die huidige Kelder-assistent sê die konsekwentheid van die wyn is as gevolg van 'n verskeidenheid van faktore: "Grondvoorbereiding, goeie wingerdpraktyke en gespesialiseerde wingerdbestuur lei tot topgehalte wyn. Positiewe werksverhoudinge en waardes soos verantwoordelikheid en vertrouensgesindheid is ewe belangrik."
Elizabeth is 'n kenner wanneer dit kom by Groot Constantia se wynproduksie, en het vir 20 jaar lank in die kelders saam met die Wynmaker, Boela Gerber, gewerk.
"Dit verg 'n spesiale groep mense om 'n spesiale wyn te produseer. Die volgehoue prestasie van die Grand Constance is te danke aan ons toegewyde wingerdspan. Hulle vlytige aandag sluit in om elke bessie en rosyntjie met die hand te pluk," sê Gerber.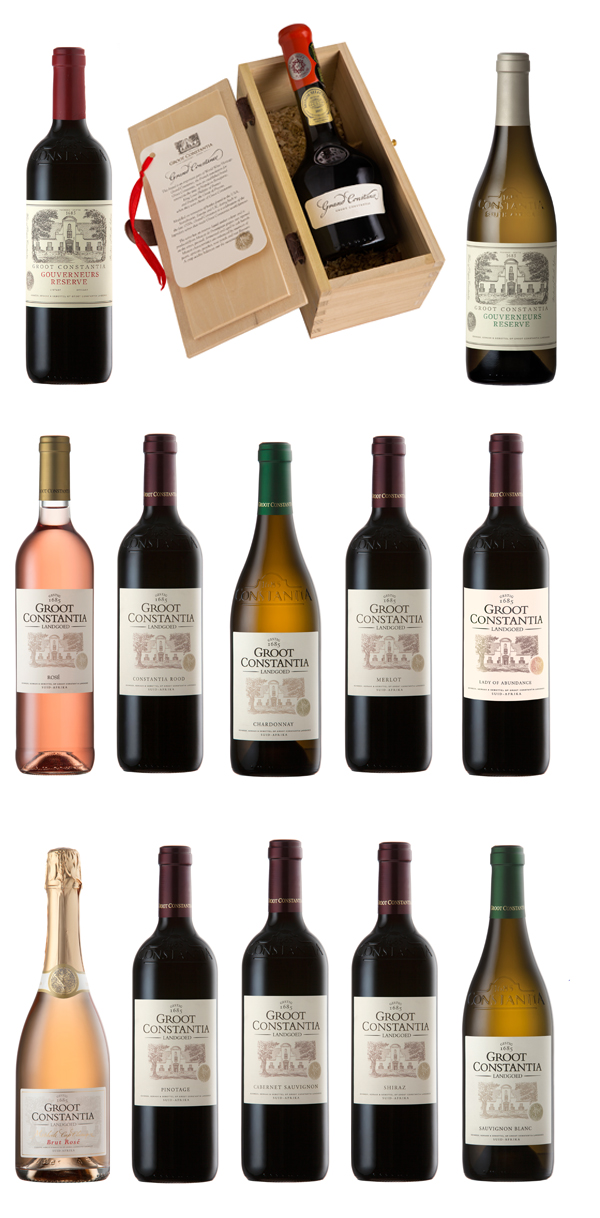 'n Wenner kombinasie: Die Span en Die Terroir
"Die uitsonderlike kwaliteit van Groot Constantia se wyne oor die eeue heen bevestig die merkwaardige terroir wat doeltreffend deur 'n span passievolle mense aangewend word. Die eindrestultaat, om bykans al ons wyne as deel van Suid-Afrika se top 100 te hê, is as gevolg van harde werk deur mense oor alle vlakke van die besigheid. Wanneer jou intreevlak-wyne gekies word onder die land se top 100, maak dit 'n sterk stelling oor die algemene kwaliteit van al ons produkte. Ons is trots daarop om 'n rol te speel in die tentoonstelling van die ryk erfenis van die Suid-Afrikaanse wynbedryf," sê Jean Naudé, CEO van Groot Constantia.
Heildronke uitgestel tot later
Die woord 'Constantia' beteken 'standvastig' en 'konsekwent' in Latyns, en hierdie etos het Groot Constantia nog altyd gehelp om verskeie struikelblokke te oorkom om deurlopend klassieke wyne te oes en te produseer. 'n Ware simbool van volharding.
"Suid-Afrikaners moet nou saam staan, sterk staan en geduldig wees. Maar wees beslis, die tyd gaan kom wanneer ons weer ons glase gaan klink om beide die merkwaardige oorwinnings en die klein alledaagse vreugdes van hierdie pragtige land te vier," sluit Naudé af.
Vir meer inligting besoek www.grootconstantia.co.za of volg Groot Constantia op sosiale media op Twitter, Facebook en Instagram @GrootConstantia.

From our cellars Frederick the Great of Prussia, Louis Phillipe (King of the French) and Napoleon were supplied...
come and add yourself to the list!
Become part of a lineage of royalty and noble men who have savoured our wines for centuries.
By joining our exclusive Groot Constantia Wine Club you will enjoy the following exclusive benefits:
No initial sign up cost

Wine Club Members receive a standard 10% discount on Groot Constantia wines bought at the Groot Constantia Wine Estate and on our website www.grootconstantia.co.za

Be among the first to be informed of specials and new releases

Have the exclusive opportunity to pre-order new vintages