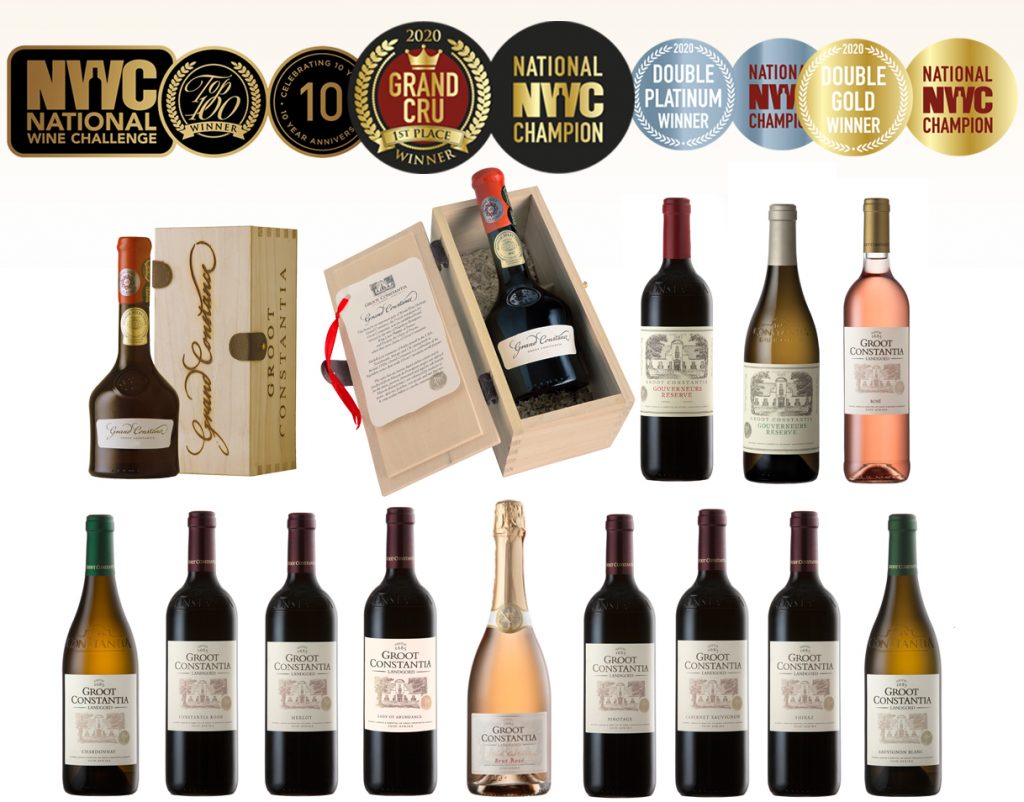 In 2010 a local entrepreneur, Robin von Holdt, founded the Top 100 SA Wines competition to highlight the excellence of South African wines while also providing a reference point for wine lovers across the globe.
Groot Constantia has been entering our wines into this competition since its inception.  When the SA Top 100 Wine Show started ten years ago the Estate had one wine under the Top 100.
This has increased year on year, and now in 2020 the Estate is celebrating an impressive nine winners in the Top 100 list – and Groot Constantia's wines collectively won 20 awards at this year's event.  Considering the fact that the number of entries increases year-on-year, becoming a Top 100 winner is getting tougher every year.
Our winning wines for 2020 are the Groot Constantia Cabernet Sauvignon, Constantia Rood, Gouverneurs Reserve Red, Gouverneurs Reserve White, Merlot, Pinotage, Sauvignon Blanc, Shiraz, Lady of Abundance, Method Cap Classique, Rose and Grand Constance – which between them secured nine Top 100, nine Double Platinum, two Double Silver, A Double Gold and five Grand Cru awards!
The Grand Constance 2016, Groot Constantia's iconic sweet wine that has been around since the days of Napolean, also won the Top 100 Wine Consistency Award.  This wine has a legacy of achievements, sharing the joint first place in the same category in 2015 to 2019, and earning the Grand Cru Best in Class three times since 2016.
To mark this achievement, and to celebrate the re-opening of our Estate as well as our 335th birthday, Groot Constantia has released a Top 100 Wines Limited Release Case – of which only limited cases are available to purchase at the Estate.
For more information visit www.grootconstantia.co.za or connect with Groot Constantia via social media on Twitter, Facebook and Instagram @GrootConstantia.
Ends