Friday the 19th of October, we raise our glasses and klink our flutes to Champagne day! And what better way to celebrate this auspicious day than with a local alternative that tastes just as great and fits the budget too! Champagne can only be called by this name if the grapes are harvested in the French region Champagne and made by the exact standards by which this sparkling bubbly drink is made. When comparing champagne to our local gem Methode Cap Classique or 'MCC' as most of us affectionately know it as. MCC is made in the same bottled fermentation process that the French use, but because it's not French grapes, it cannot be called champagne. Today, we have many award-winning South African winemakers that pride themselves on making quality MCC that can even rival French champagne!

The facts on MCC
MCC is made using grapes that are low in sugar. Similar to white and red wine, MCC grapes are pressed and then fermented, but sugar and yeast is added, the mixture is sealed and carbonation forms to create what we would later know as MCC.
MCC can be stored for up to a year to four years in a cellar for the yeast and sugar to ferment the grapes.
Sparkling Wine is made in the same process but has carbon dioxide added when it's bottled to speed up the process.
Do not overlook homegrown MCC for the flashier champagne brands, our bubbles compete quite well with the grapes harvested in France.

Groot Constantia MCC Brut Rose
The Groot Constantia Method Cap Classique Brut Rose is made with 90% Pinot noir grapes and 10% Chardonnay grapes, our MCC has a delicate salmon pink colour and is yeasty and doughy in characters on the nose with refreshing notes of stone fruit with crisp acidity on the palate.
Enjoy on its own or with summer salads, deliciously fresh oysters and grilled fish dishes.
We found our Brut Rose MCC pairs perfectly with this delicious delicately smoked rooibos trout with a light and summery buckwheat salad.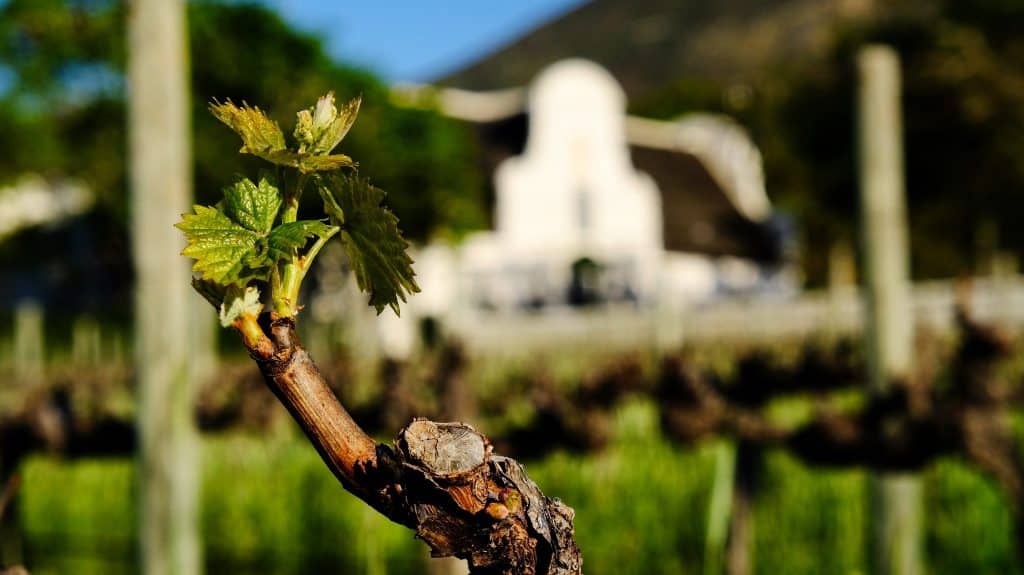 Groot Constantia and the WWF-SA Conservation Champion Program
Groot Constantia takes pride in the impressive eco-values that it is committed to, and as WWF S.A celebrates 50 years of environmental achievements, Groot Constantia aligns its sustainability efforts to them. Striving for a sustainable and equitable future for all.
The WWF-SA Conservation Champions Program is only officially recognised after an estate meets rigorous conservation criteria and as part of the Biodiversity and Wine Initiative. The Champions program is not merely about conserving the fauna and flora, but also about keeping the natural environment healthy and thriving.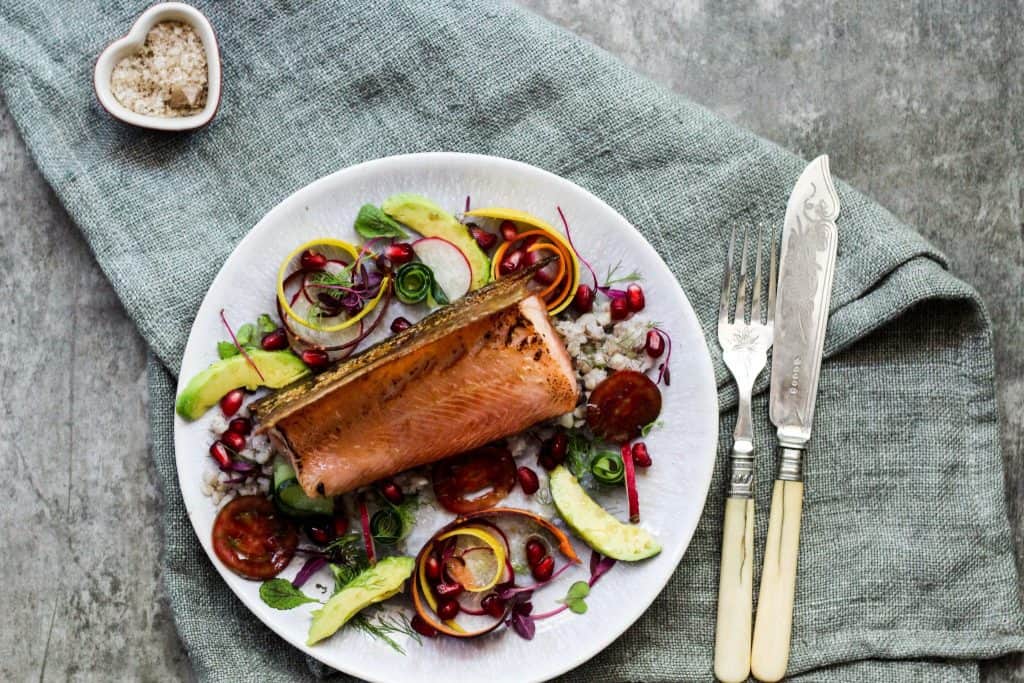 We've selected this Rooibos tea smoked Trout with a Buckwheat salad to be paired with the Groot Constantia Brut Rose MCC. The South African aquaculture-grown trout is on the WWF-SASSI green list. These are the most sustainable choices from the healthiest and most well-managed fish populations in South Africa. These species can handle current fishing pressure or are farmed in a manner that does not harm the environment. This is the list we encourage you to choose from.
Equipment:
Blowtorch
2x roasting trays with rack
Pin Bone tweezers 
Ingredients:
1 Rainbow Trout fillet (or any other sustainable fish)
4 tablespoons of loose Rooibos tea leaves
100g buckwheat (thoroughly rinsed)
Half of an avocado
Smoked sea salt to season
Olive oil
Sliced mini rosa/exotic tomatoes
Pomegranate rubies
4 rainbow carrots (peeled using a vegetable peeler
Mini cucumber (peeled using a vegetable peeler)
4 radishes finely sliced
Micro herbs to garnish.
Method:
Bring 500 ml of water to a rapid boil in a large saucepan, add the rinsed Buckwheat to the boiling water and reduce to a simmer for 20 minutes (keep stirring throughout) until all water has been absorbed. Take off the heat and set aside to cool, once slightly cooled, using a fork separate the grains until a fluffy texture is achieved.
To prepare the trout, using a pin-bone pair of tweezers, carefully feel along the fillet for bones and extract.
Carefully peel off the skin of the trout, using a sharp knife to help with the process, season the skin and place between two baking trays lined with baking parchment both under and over the skin. Bake in a preheated oven at 200 degrees C for 10-15 minutes until crispy. Set aside until assembly.
Season the fillet with a pinch of smoked sea salt and rub a little olive oil on the trout and place on a wire rack. Break open the Rooibos tea bags discarding the bags and add to the bottom of a roasting tray, taking a blowtorch, torch the tea leaves until smoking, be careful not to torch in one place for too long. Place the rack with the trout in the tray and cover with another tray to insulate the smoke. Lifting the lid every now and then to torch the leaves every few minutes until desired smokiness is achieved. I used the blowtorch again; I lightly torched the trout until light pink, for a few seconds. This gives the fish a slight char and heaps of flavour.
Slice the radish, tomatoes, avocado and drizzle with a little fresh lemon juice. Clean and peel the carrots into thin strips, curl the carrot strips and place on top of the radish on the plate. Arrange and assemble as you like, season to taste and drizzle with olive oil and add the trout skin for added crisp texture.
*If you don't own a blowtorch you could use your stove top to achieve the smoking of the trout, add the prepared roasting tray on two stove plates. And if you like, you could lightly sear the trout when smoking is done.
Recipe provided by Dominique Solomon  – Off Beet Blog.