Fine wine and a fireplace or three
After a long and dusty drought, the Cape is experiencing a real winter this year. We welcome the rain and continue to stick to our water ration of 50 litres a day.
Celebrating the rain is one thing, but as the temperatures plummet we are all feeling the cold. Grey skies and an icy wind that feels like it blew in straight off an iceberg have us all finding the down duvets, extra blankets, heaters and hot water bottles. The instinct is to huddle up and hibernate until the sun comes out again.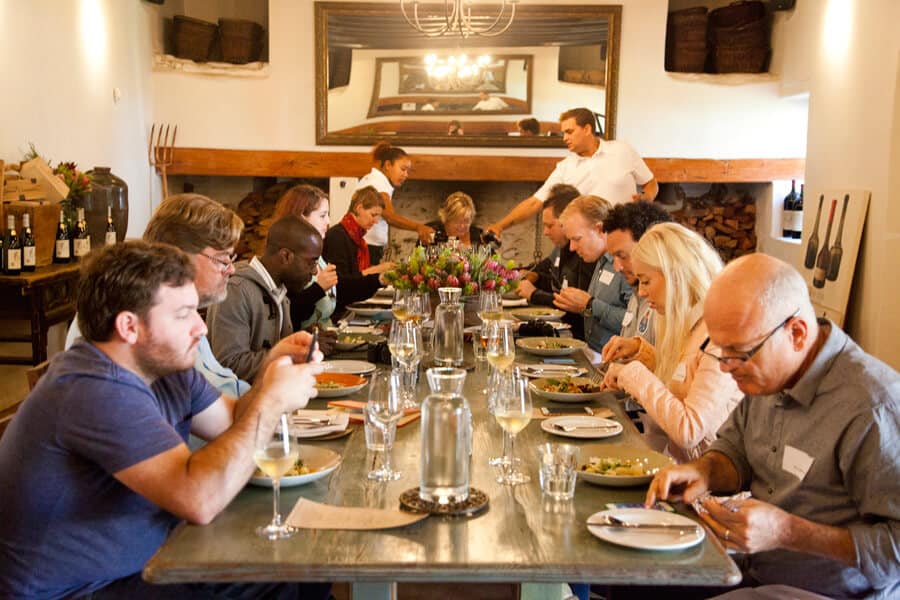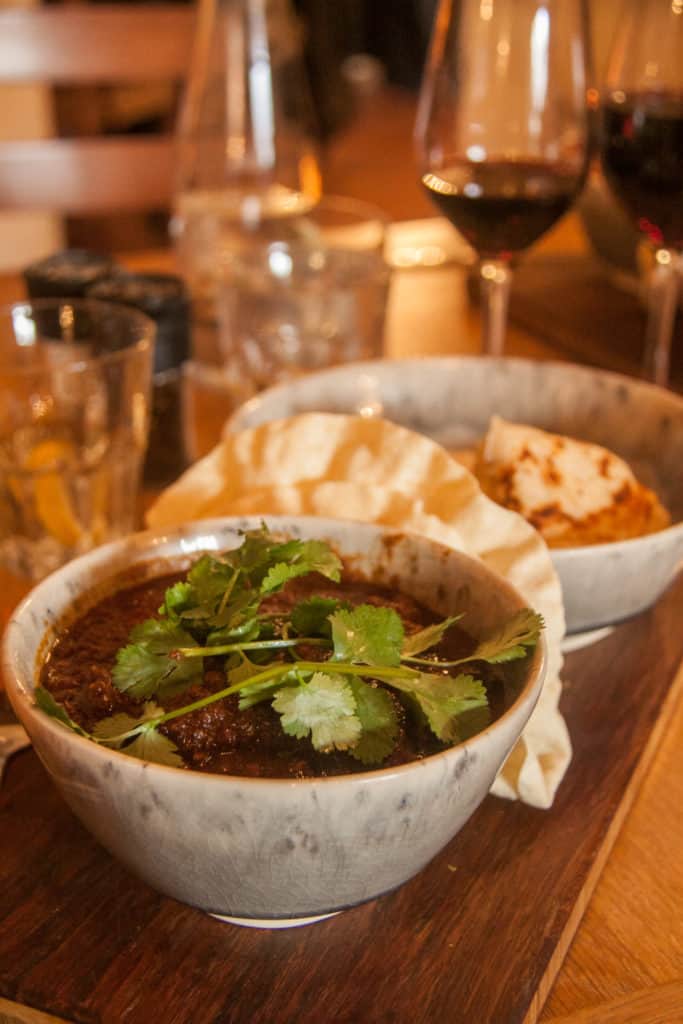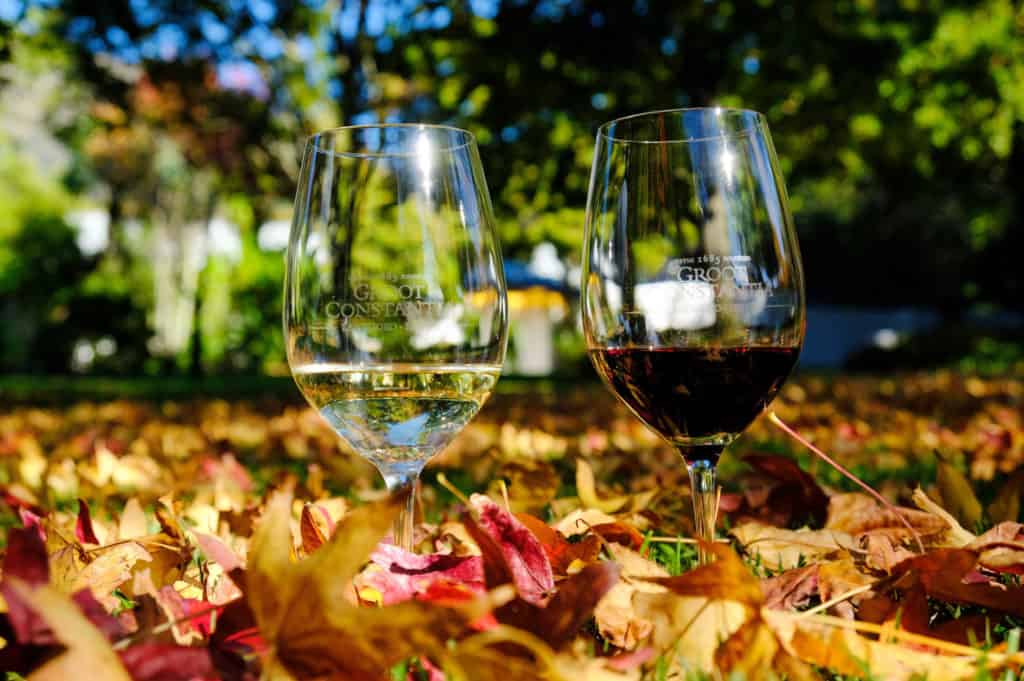 However, there is an upside to winter. Thick jackets, wellington boots and a bright scarf to add a splash of cheerful colour, and you are ready to go out and enjoy Cape Town.
In its 333rd birthday year, Groot Constantia offers not one, but three cozy venues with roaring log fires to chase away the winter blues and coax you out of your house.
Can you think of a better way to spend a cold and rainy winters day than around the warmth of a crackling fire at the tasting room at Groot Constantia?  While their fine wines warm your body, the vibrant artwork adorning the walls gives colour to a grey day and adds to the cheerful atmosphere.
Grab your hungry friends and sample the winter menu at Jonkerhuis Restaurant. Book a table close to the fireplace and share a magical meal with friends in the warmth of an historic home. The Gouverneurs Reserve Red is guaranteed to warm your bones, and the Grand Constance dessert wine is a perfect, silky smooth winter warmer.
Pair the Grand Constance with chocolate, dried fruits, nuts and a wide variety of both hard and soft cheese, great with fruit- based puddings such as lemon tart, pavlova and fruit- topped cheesecakes.
The Gouverneurs Reserve Red is packed with ripe black fruit and will pair well with Jonkerhuis' Pork Belly, Aged Karan Sirloin or the Karan Ribeye.
For a casual brunch, lunch or just snacks, Simon's Deli is a laid back venue with a great fireplace and of course outstanding wines to go with the food.
Sit down and order the Simon's Char-grilled Fillet and pair it with a bottle of Groot Constantia Pinotage, or tuck into the Slow-roasted Lamb Shoulder paired with a bottle of Cabernet Sauvignon.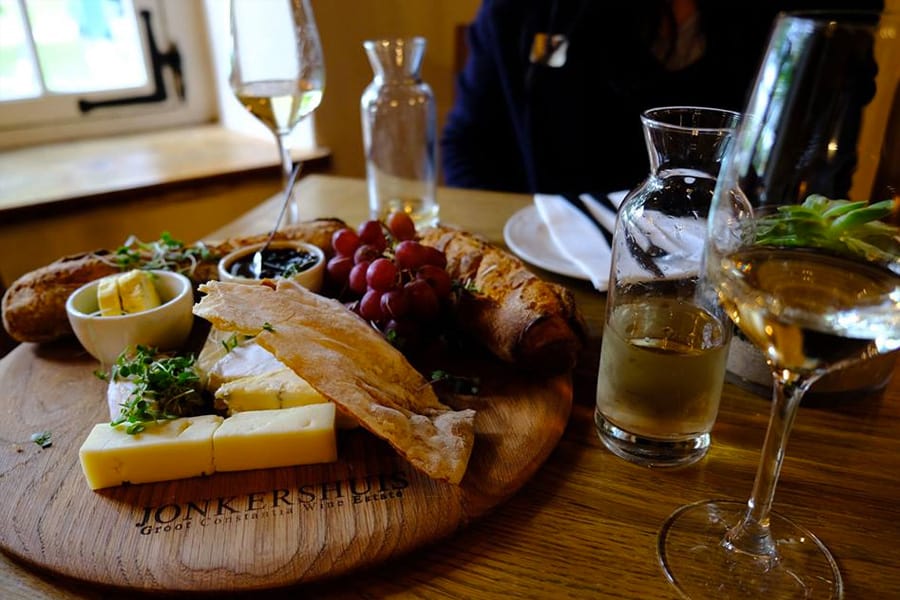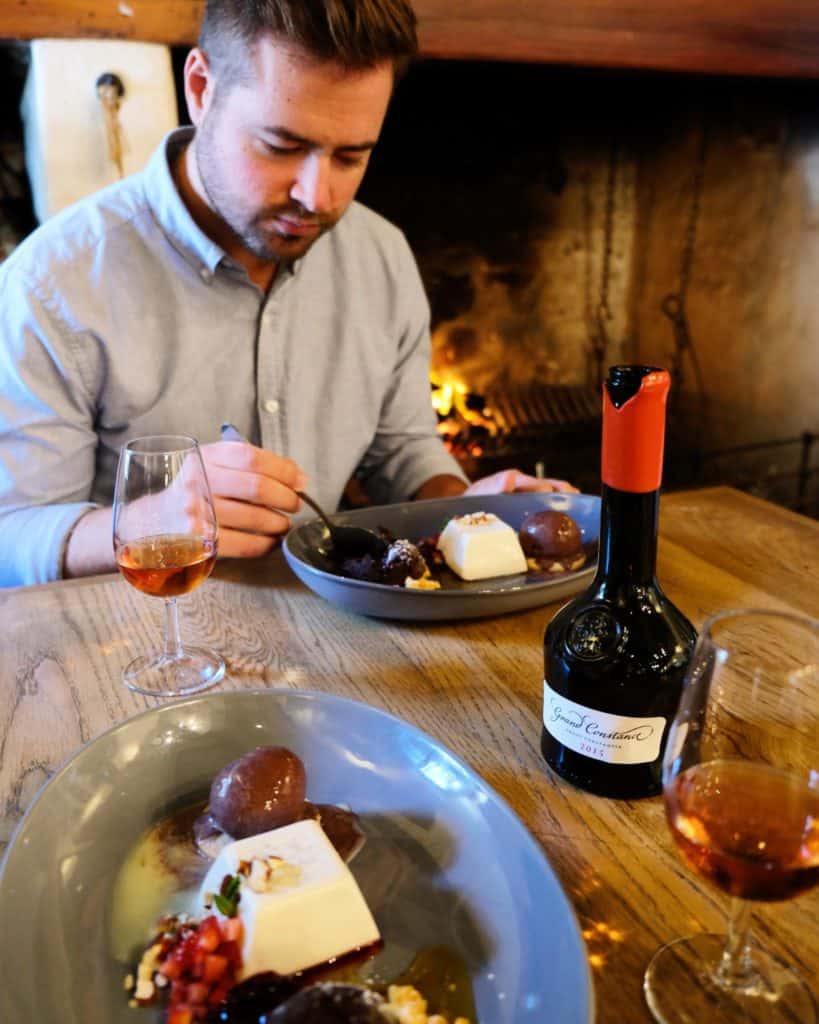 While you are sipping your glass of the best around one of Groot Constantia's legendary fireplaces, spare a thought from the folks back in the day when the estate was new, electricity was yet to be invented, and the storms raged across the land.
The iZiko Museum on site has a few artifacts showing how they had to keep warm without hot water bottles, heaters or electric blankets.
Heavy curtains helped insulate against the cold, and a fireplace was essential in every room in the house of a wealthy person. The Four Poster bed added additional warmth and the bed would be piled with blankets.
A copper or brass bed warmer was filled with hot stones and placed in the bed to warm it up. A soapstone or dense brick would be heated in the fireplace, covered in a cloth to prevent burning and placed in the bed as a foot warmer. A nightgown or nightshirt, as pajamas were called in those days, would consist of a thick flannel shirt that came almost to the ground. Many people also wore a night hat to prevent heat leaving their bodies via the head. Not the sexiest attire for bedtime.
So, be grateful that you live in a time where electricity, heaters and thermal clothes make staying warm easy, and then enjoy the simple pleasure of great wine shared around a good old fashioned fireplace. Which one of the three is your personal favourite at Groot Constantia?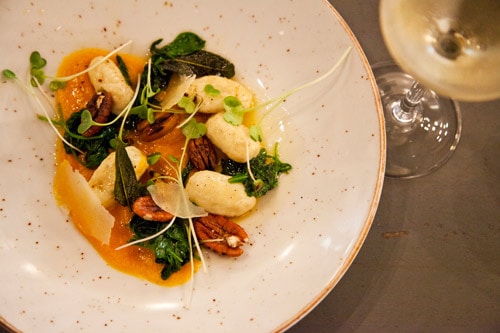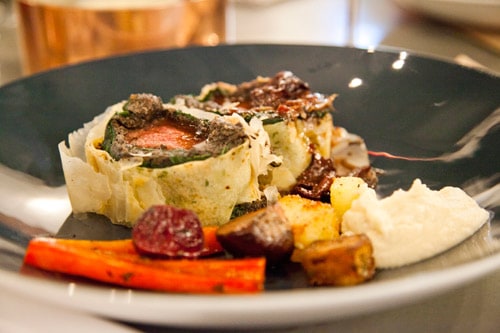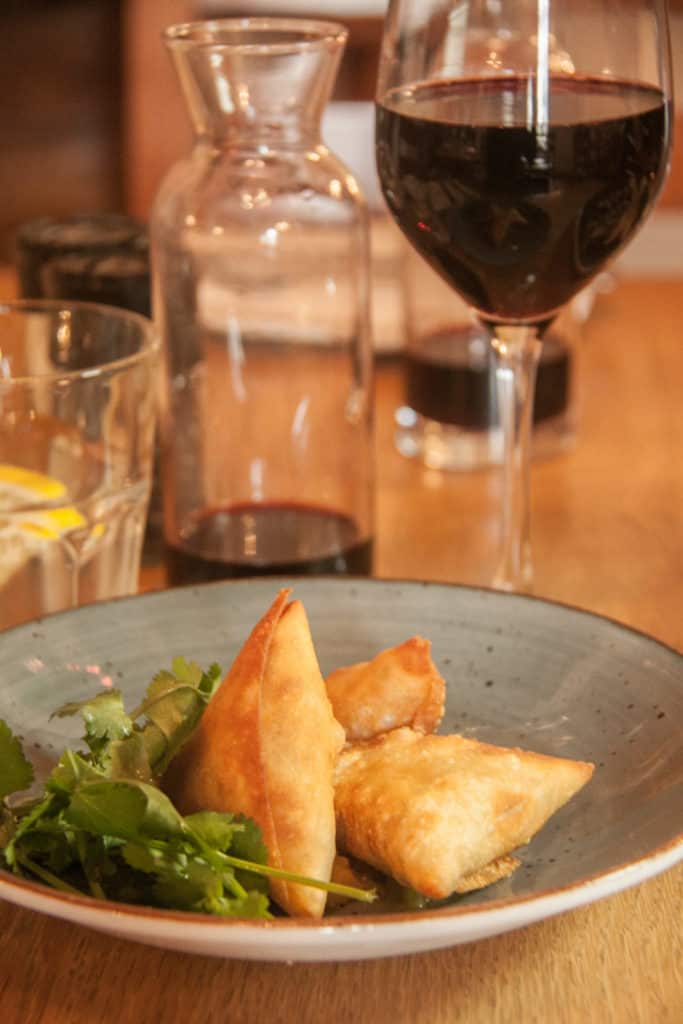 Written and photographed by Di Brown aka " The Roaming Giraffe".
She enjoys exploring new places through the stories of the people, she loves being outside, in nature or on a beach. And she is having the time of her life  experimenting, failing and spending thousands of hours on the same beach taking sunset shots of Table Mountain. Or here at Groot Constantia.

From our cellars Frederick the Great of Prussia, Louis Phillipe (King of the French) and Napoleon were supplied...
come and add yourself to the list!
Become part of a lineage of royalty and noble men who have savoured our wines for centuries.
By joining our exclusive Groot Constantia Wine Club you will enjoy the following exclusive benefits:
No initial sign up cost

Wine Club Members receive a standard 10% discount on Groot Constantia wines bought at the Groot Constantia Wine Estate and on our website www.grootconstantia.co.za

Be among the first to be informed of specials and new releases

Have the exclusive opportunity to pre-order new vintages