As a self-proclaimed 'future' Constantia mom, Groot Constantia is a place I know and love, or at least I thought I knew, having visited many times on special occasions with family and spontaneous weekends with friends. 
Yet to my surprise, a range of unique experiences were waiting for me to discover this weekend and I'd easily choose to experience it again with this personalised look of the estate!
The Visitors Route Experience 
The Visitors Route Experience was one I had never even heard of until now but it's well worth the price. At only R115 per ticket, the hours of your day will be filled with exciting historical stories, museum tours, significant insight into the winemaking process and better yet – topped off with a unique wine tasting where you call the shots.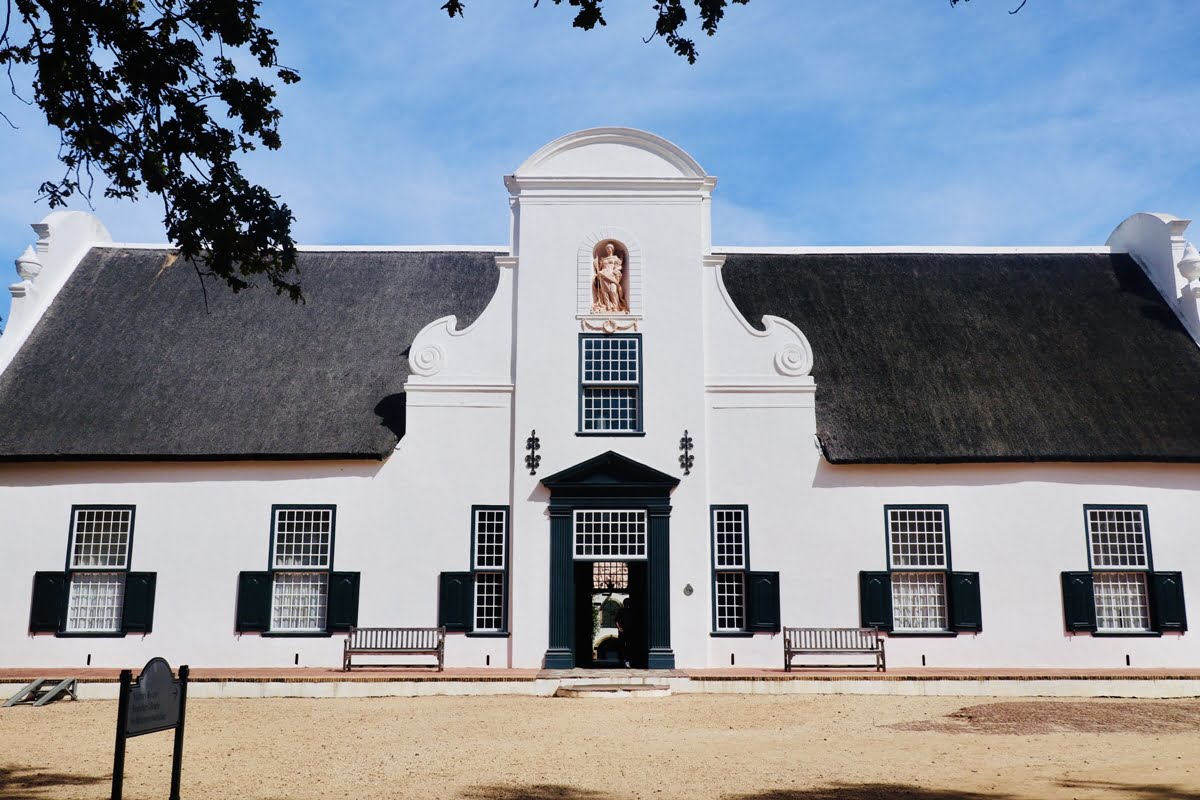 Some would say to start your experience being transported back in time as you make your way through the Manor House Museum, where time stands still and precious pieces dating back hundreds of years give you a glimpse into how things really were. 
As no photography is allowed inside the manor house, taking a moment to pause and look at the well-preserved furniture, detailed architecture and unique styling of individual rooms a little closer, created an even bigger picture into Groot Constantia's historical past, almost life-like.  
But this is not where we began our tour.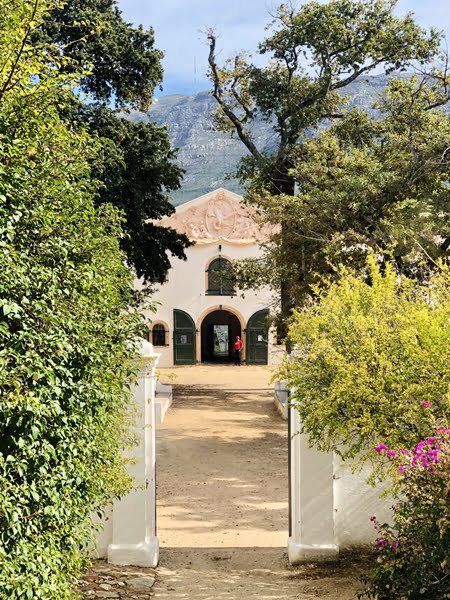 A ticket includes a cellar tour and it just so happened that we were right on time for the guided tour which takes place hourly. Although a self-guided tour option is also available, the guided tour made us smile a little brighter as the passion and knowledge exhibited by the guide reminded us that this wine estate is much more than meets the eye. 
 With over 335 years under their belt, Groot Constantia has stood the test of time, standing taller still through lockdown. 
Not knowing quite what to expect from the cellar tour, I was certainly not disappointed. The production of wine, although intricate, is quite intriguing and this tour breaks down the process so efficiently so that even occasional wine drinkers, like many locals are, understand just where and how their drink of choice comes to be. 
The tour took us on a journey through the years, from its first year until now, highlighting the significant milestones along the way, reiterating this great legacy we have so often overlooked. One key takeaway is that winemaking isn't just an art, it requires patience and unseen hard work in order to produce the best results – exactly why Groot Constantia wines are world-renowned!
Even their Grand Constance has travelled far and wide, featuring in novels globally and has touched the lips of royals written about in history books.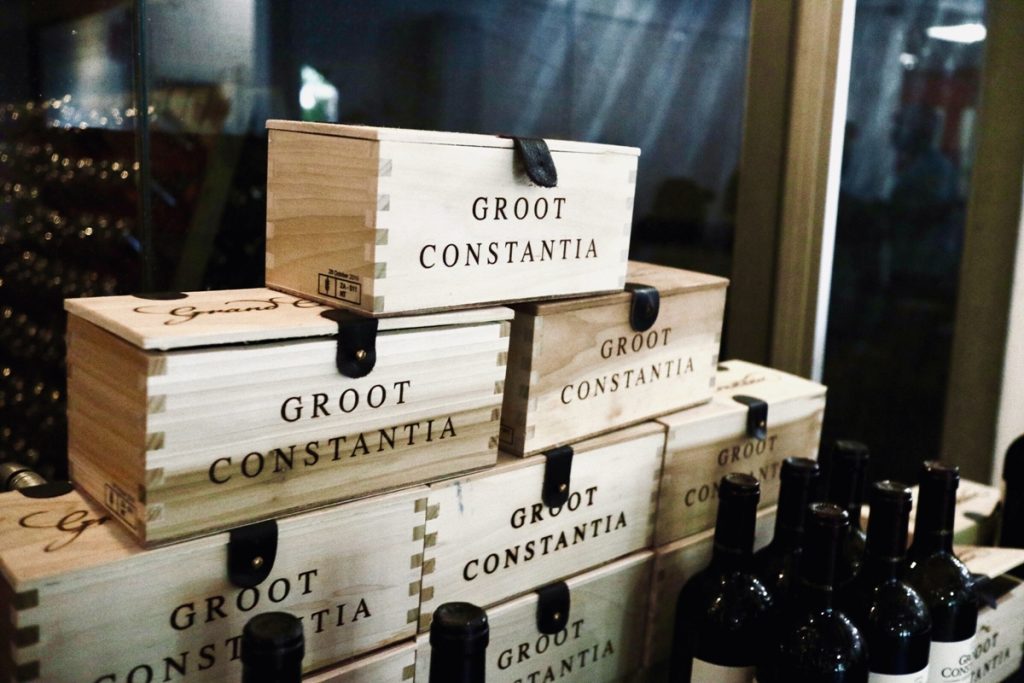 The attention to detail is commendable and with wine on display at every turn, naturally a sit-down wine tasting was next up!  The wine tasting on offer allows visitors like myself to select 5 wines from their impressive list, and fair warning, it can be a difficult choice to make! Whether you prefer fruitier whites and sweeter rosé like I do, or prefer the more seductive taste of red wine, the choice truly is yours and you can choose where to have it too. 
Grab a seat at the Cloete Cellar tasting room, inside the production cellar building or if you love a little more sunshine like I do, outside is just perfect. Although seating is quite limited, there's enough time to do the wine tasting after you've explored the vast wine estate on foot, taken in its spectacular mountain views and had a stop at the duck pond.        
While we patiently waited for a sunshine seat to open up, we used the opportunity to learn more about the Cloete Cellar. Being the original wine production cellar from 1791. If the walls could talk, I'm sure it would have many secrets to share.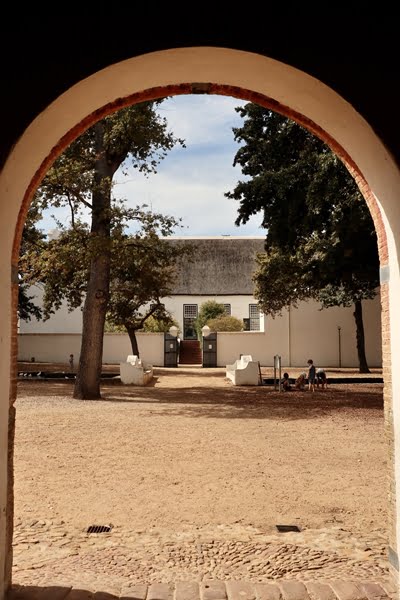 This production cellar now turned interactive museum and tasting room boasts a welcoming aura that insights intrigue and interest as it exhibits pieces dating back centuries and a part of a carriage collection that gave me all the Bridgerton feels. 
Here you can closely taste and feel the history of Groot Constantia and although you can definitely not touch these precious items on display, the information provided about each piece is enough for your imagination to create a full mental picture. Anyone wanting to do the Visitors Route should not rush it and although it doesn't take away from your entire day, to make the most of the historical and cultural legacy and use all your photo opportunities requires a time out.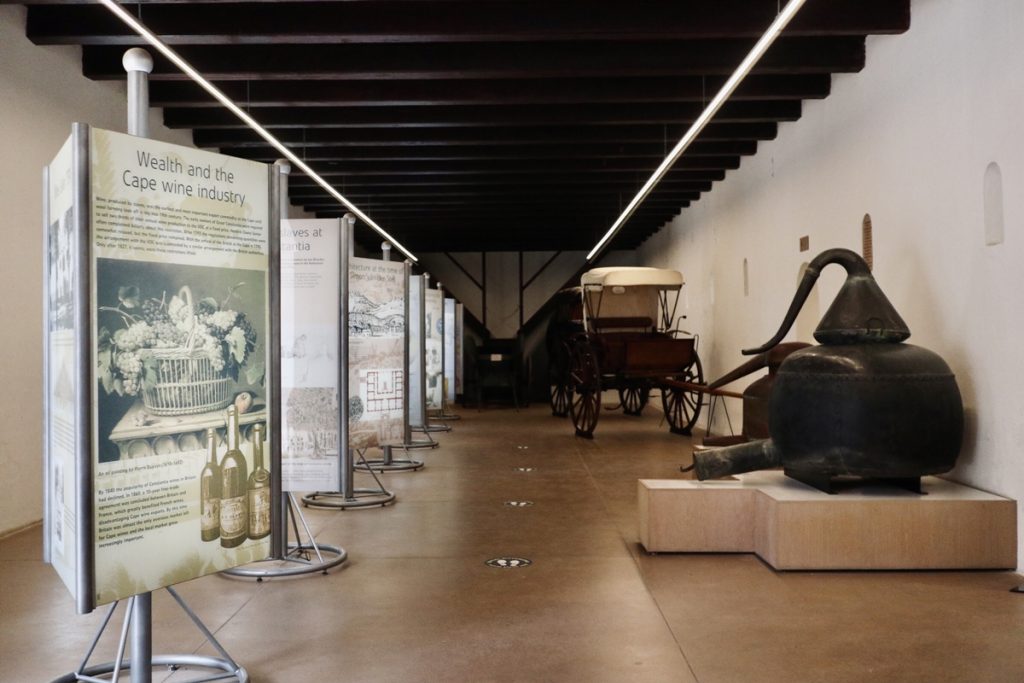 As we conclude our day with the wine tasting, we swirled our glasses trying to be wine connoisseurs, feebly attempting to identify notes and aromas many so often speak about.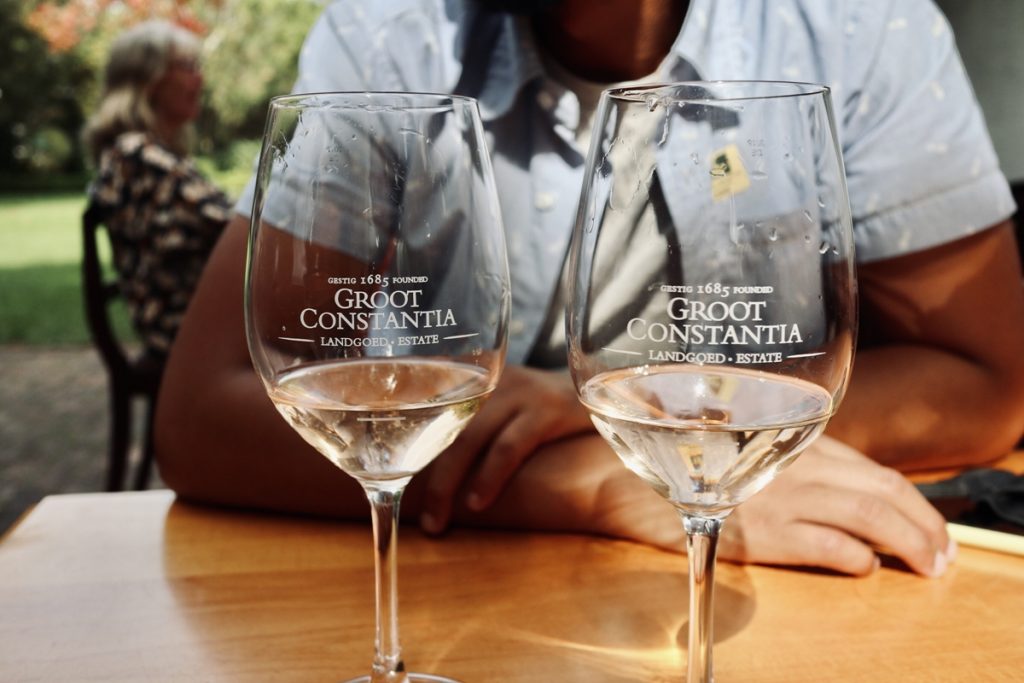 Regardless of your level of expertise, it's pretty clear that sipping on Groot Constantia's wine is one of the most ideal ways to end any day. Now you'll just have to experience it for yourself.
You can also explore the vineyards and production cellar with the FREE VoiceMap audio tours using the free WiFi on site and even if a history lesson is never top of your agenda, the legacy of Groot Constantia is one to be admired and cherished for a little while longer as the wine estate continues to play a major role in South Africa's wine industry. 
I hope more locals take a page from my book and plan a visit to South Africa's oldest producing wine farm soon! 
Read here more about the unpacking of a wine tasting at Groot Constantia.