About Groot Constantia

The Groot Constantia Wine Estate is the oldest wine-producing farm in South Africa.
OUR VISION
We aim to be a world class international destination, capturing the rich and diverse heritage of South Africa, in order to deliver a unique cultural, social and historical experience, to locals and tourists alike, through the offering of world class, quality wines and sensory encounters.
Meet the owners of the oldest wine farm in South Africa and learn to understand the significance of each era.
Simon van der Stel (1639-1712)
Contemporary documents describe Simon van der Stel, the first owner of what is now Groot Constantia, as having been born in Mauritius. In fact, he was born at sea while his parents were on their way to Mauritius from Batavia in 1639. His father, who was in the employ of the Dutch East India Company (VOC, as contracted in Dutch), had been posted there, but was eventually transferred back to Batavia, were Simon remained until the age of 20, having by then lost both parents.
Oloff Bergh and Anna de Koningh (1716-1734)
Oloff Bergh, who took possession of Constantia on 13 November 1716, was born in Göteborg, Sweden, in 1643 and joined the VOC in 1665. He spent a few years in Ceylon as a soldier and was a sergeant when he arrived at the Cape in 1676.
Carl George Wieser and Jacobus van der Spuij (1734 -1778)
On 9 August 1734, Groot Constantia was acquired by Carl George Wieser. Wieser, a soldier in the service of the VOC who came from Heidelberg, Germany, arrived at the Cape in 1728. He was promoted to corporal in 1730 and two years later married Johanna Jacoba Colijn, sister of Johannes Colijn, then owner of Klein Constantia. In 1724, Johanna owned a farm at Camps Bay and evidently had some farming experience. Their only child, a boy, was born in 1732. In the following year, Wieser resigned from the VOC to become a Free Burgher.
Jan Serrurier (1778)
Jan (or Johan) Serrurier, the son of a minister, Louis (or Lodewyk) Serrurier, and Esther de Vis, came from Hanau in the Netherlands. In 1747, he married Catharina Kretzschmar, the widow of Jan van der Swyn, who from 1738 had owned and lived on the farm Alphen, not far from Groot Constantia. Two sons were born from this marriage. In 1755, after Catharina's death, Serrurier married Geertruyda (baptised 1736), daughter of the wealthy farmer Jacob van Reenen (died 1764), owner of Witteboomen, also near Groot Constantia. They had seven children.
Hendrik Cloete (Senior) (1778-1799)
Between 1778 and 1885, three generations of Cloete's owned Groot Constantia and a total of five Cloete generations were responsible for its viticulture.
The Cloete Era continues (1799-1885)
Hendrik Cloete junior had a close association with the estate starting 1778, the year that his father bought it and had given him the job of farm manager, for which his remuneration was a share of the produce.
Government (1885 - 1993)
Groot Constantia Trust (1993 till present)
Grand Constance, the French translation for Groot Constantia, was an established brand revered in the time of Napoleon, Louis Phillipe (King of the French) and Frederic the Great of Prussia. The Grand Constance brand is an important part of World Wine Heritage and South Africa's oldest wine. Have you ever wondered how it came about that Napoleon was allowed to drink wine made at Groot Constantia whilst exiled on the island of Saint Helena from 1815 until his death in May 1821?
The agent of the English East India Company based in Cape Town at the time, Joseph Luson (1783-1822), was tasked by the British authorities to provisioned not only the French contingent at Longwood House, but also the civilian population, the garrison and the regiments stationed on the Island as well as the ships of the Royal Navy patrolling the waters around Saint Helena. 
Joseph Luson bought the wine directly from the Cloete family who owned Groot Constantia. His business relations with the family changed significantly on 24 May 1817 when he married Catharina Maria (Mary) Cloete, the daughter of Pieter Lourens Cloete, the wine merchant of Groot Constantia, and his wife, Maria Catharina van Reenen. Luson also appointed his brother-in-law, Daniel Jacob Cloete (1800-1879), as his confidential clerk in 1819. The names of 'Den Heer J Luson' and 'D J Cloete' are amongst the regular clients recorded in the Groot Constantia's Wine Sales Register, meticulously kept from 1800-1860.
According to Napoleon's wine steward, Montholon, one bottle of Constantia reserved for Napoleon per day "was more than was used'.
Many theories have been surmised about how Groot Constantia received its name. 
The Latin meaning of Constantia translates to constancy or steadfastness, attributes Simon van der Stel held in high esteem.
The oldest supposition put forward by the German traveller Peter Kolbe (1675-1725) in his book Caput Bonae Spei Hodiernum (1719) and also by the traveller Francois Valentijn (1666-1727), was that it was named after Van der Stel's wife. The idea, however, does not fit in with the fact that her name was Johanna Jacoba.
The French engineer and writer Jacques Henri Bernardin de Saint-Pierre (1737-1814) said the farm was named after Van der Stel's daughter. That also did not make sense as her name was Catharina.
The American naval chaplain CS Steward, who visited Constantia in 1830, had yet another improbable theory. According to him, the French Constantia grape was the first to have been planted on the farm and this grape made the farm well known. However, French varietals were not planted by Van der Stel, but by his son Frans (c. 1668-1718).
There is also a theory that the farm was named after a VOC yacht with the name Constantia which sailed between the Netherlands and Batavia. On one occasion the Constantia and two flutes, or supply ships, the Wapen van Hoorn and Alphen, anchored in Table Bay.
In 1716, a farm, which formed part of Constantia, was bought from Theunis van Schalkwyk (died 1717), then by Jan Brommert, who at that stage was in charge of equipping VOC ships in Table Bay. Because this farm had the name Alphen, there is conjecture that both farms may have been named after ships.
The most romantic theory came from the writer Hymen Picard, who claimed the name commemorated the daughter, named Constantia, of Pieter Sterthemius, commander of the fleet with which Van der Stel sailed in 1659 from Batavia.
According to Picard, she and Simon had fallen in love during the voyage. Constantia died in the Netherlands some time later.
Another candidate was the daughter of Van Goens, whom Van der Stel may have honoured out of gratitude for Van Goen's support of his original application for the land.
A final possibility is that the word, derived from Latin, means constancy or steadfastness, and these were attributes Van der Stel held in high esteem.
Groot Constantia today
Groot Constantia stands as a pinion of excellence for the wine industry and is an ideal example of the preservation of South African culture and heritage.
It is a fully operational farm, one of South Africa's most visited tourist attractions, where a wide range of quality estate wines are created and sold (seven days a week).
With a variety of other attractions, including restaurants & museums a visit to Groot Constantia becomes an unforgettable experience. The estate is today owned by the Groot Constantia Trust, a non profit company (NPC).
The trust is committed to maintain and restore this national monument which is South Africa's oldest and best known wine estate.
Cellar Capacity
Pressing capacity: 650 tons
Estimated tonnage:
2003: 498 tons
2004: 620 tons
2005: 525 tons
2006: 447 tons
2007: 458 tons
Wood maturation: 30 –  50 % New Wood
Situation, climate, soil types and major varietals
Rainfall:
Highest average rainfall of all the South African regions in the form of winter rains– no problem with summer rain during the season. 1,100 mm rainfall per annum 78% rainfall from May to October. No irrigation required.
Soil Types:
Nine different soil types exist on the farm and careful planning ensured the selection of the best possible clones of chosen varietals, in harmony with the specific slopes and soil types.
Mostly Table Mountain Granite soils including Glenrosa, Hutton, Avalon and Oakleaf soils are found on the Estate.
The alluvial soil types on the lower slopes of the farm provides interesting variation on varietal character, giving the winemaker the opportunity to create more complex wines through skillful blending.
Situation:
Groot Constantia is situated on the Cape Peninsula overlooking False Bay. The vineyards are tucked in the steep valley on the eastern side of Table Mountain. The area is blessed with a maritime climate due to the oceans on both sides and an annual average rainfall of +/- 1,100 mm per annum combined with cool southern slopes and deep mountain soils provides the ideal setting for the making of top quality wines.
Estate Information
Hectares: 165 hectares
Hectares under vines: 90 hectares
Metres above sea level: 60 - 280 metres
Major Varietals
Red (70 %)
Cabernet Sauvignon
Cabernet Franc
Merlot
Shiraz
Pinotage
Malbec
Touriga Nacional (Port variety)
Muscat de Frontignan
White (30 %)
Sauvignon Blanc
Chardonnay
Semillon
We, Groot Constantia, are a WWF Conservation Champion – acknowledged as an environmental leader in the wine industry for our commitment to conservation, responsible production practices, integrated environmental management systems, and spearheading innovations in water, energy efficiency and climate adaptation.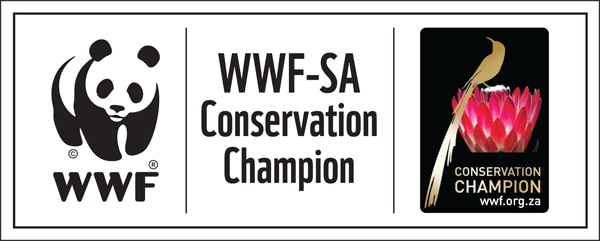 With 95% of wine growing taking place in the unique habitat of the Cape winelands, WWF participates in a pioneering partnership between the South African wine industry and the conservation sector – one that Groot Constantia is proud to be part of.
Sustainability has become the new buzzword in business circles over the last decade. To have survived through all these years Groot Constantia has had to practice sustainability over centuries. It is therefore not a new concept to this business. In the modern day, we are just continuing with what we and our predecessors have been doing for centuries.
Through Resource Efficiency and Cleaner Production (RECP) projects we are very aware of consumption of resources on the estate. The first RECP project in 2011–2012 focused on the reduction of energy and the second in 2013 on water efficiency.
We aim to become an environmental leader within the local and international wine industry regarding efficient consumption of resources.
The most important sustainability measure that we are currently busy with is erosion control. Stormwater management is of the utmost importance when farming against steep slopes in a wine-producing area receiving nearly double the rainfall of other producing areas in the country.
Groot Constantia is a Biodiversity and Wine Initiative member and part of the Integrated Production of Wine programme, being audited by both annually.
We are continuing with our practice of doing biological control in our vineyards as far as possible. We also expanded the baboon fence in an effort to separate baboon from man, their biggest threat.
We are proud to be affiliated with Cape Town's Big 6. One destination, six unforgettable experiences.
The Mother City's unique variety of attractions and interests will leave visitors entranced by her beauty and cultural variety, six unforgettable experiences – all in one destination.
Discover some of Cape Town's magic:
the legendary Table Mountain with its technically advanced cableway,
the maritime experiences of the Victoria & Alfred Waterfront,
a unique shopping environment of variety and intrigue with culinary delights to suit all tastes.
Visit Kirstenbosch, the city's most celebrated garden and one of the world's seven best, with its unique natural beauty splendidly located on the eastern slopes of Table Mountain.
Bask in the tradition and splendour of the historic Constantia Vineyards.
Visit Robben Island, the centerpoint of the dismantling of apartheid and our own symbol of freedom for all South Africans or experience the wild, untamed coastline that surrounds the legendary Cape of Storms – at Cape Point in the Table Mountain National Park.
For more information have a look at https://ctbig6.co.za/
Other
Bordering the Groot Constantia Vineyards, the exclusive Villa is situated in the heart of Constantia Valley and is perfectly positioned to experience Constantia's world class winelands.
The Villa offers direct access to the Groot Constantia Vineyards where guests can go for leisurely walks or even stroll up to the Groot Constantia farm for a cellar tour, wine tasting or to dine at one of the fine restaurants.
The Villa is packed with all the facilities guests would need to experience the ultimate getaway.
For more information such as rates, guest reviews or the full gallery of images, please visit the Groot Constantia Villa website or call Dennis on +27 (0)82 4574301 or +27 (0)21 7948311.

From our cellars Frederick the Great of Prussia, Louis Phillipe (King of the French) and Napoleon were supplied...
come and add yourself to the list!
Become part of a lineage of royalty and noble men who have savoured our wines for centuries.
By joining our exclusive Groot Constantia Wine Club you will enjoy the following exclusive benefits:
No initial sign up cost

Wine Club Members receive a standard 10% discount on Groot Constantia wines bought at the Groot Constantia Wine Estate and on our website www.grootconstantia.co.za

Be among the first to be informed of specials and new releases

Have the exclusive opportunity to pre-order new vintages